Personal News

A New Romance - Nichole and Tall Ship Sloop Providence

In May 2011, while enjoying dinner with my family in Newport Rhode Island, an attraction was established. Beautiful Sloop Providence caught my eye and stole my heart. Something about her spoke to me and said we are meant for each other. Let not fear and oddities discourage I always tell myself and with my own calling... I find myself doing the unimaginable yet imagined somewhere. A dream to say the least. I perform, swing, twirl, invent, explore, climb, play and work intricately with the beautiful and one and only Tall Ship Sloop Providence - an 18th century replica of the Union's first war vessel commanded by John Paul Jones. A successful ship in her day, taking down and/or capturing 40 British Vessels and finally scuttling herself to prevent capture. She is a beauty and I am beyond grateful for the experience I have to perform nationally and internationally upon her courseyards. Performing three times daily, we draw quite a crowd and everyone is grateful for the unique experience we bring. Not only do I perform upon the ship, she is in fact my new home. I live here and sail as crew. I learn to move her as she already moves me - a symbiotic relationship to say the least. We very much feel as one at this point, I am the ship and the ship is me. Many even refer to me as the figurehead of the Providence which is quite inspiring and something to honor and fantastic to see the imaginations work as I had written myself as the figurehead a year before I moved to the Providence.
While breaking new world ground upon Sloop Providence, not only carrying out duties as crew and performing many aerial techniques docked and on mooring... I also perform while under way with sails up, cannons firing all around - quite possibly a first for anybody and definitely electrifying. The trust here is something quite spectacular and what great relationships are built on. I pinch myself daily as this life is something extraordinarily amazing though not without challenges. They say do one thing everyday that scares you. I would say since I've lived on the ship, I have done at least three things everyday that strummed up fear, though I did them anyways. The fear that accompanies certain challenges is not unpredictable but the faith that accompanies the ship is ever guiding and feels perhaps one of the most natural things this girl from the great planes could ever feel. The name Providence in itself brings a smile to my face as I just learned the definition;

prov·i·dence/ˈprävədəns/Noun: The protective care of God or of nature as a spiritual power. God or nature as providing such care.

I am beyond blessed to be where I am and I have many thanks for all that surround me. The people of Newport, Sloop Providence's home port, have shown to be a true new family - many reaching out and aiding this newcomer in phenomenal ways. I hope to give as much in return - Thank you. Thank you also goes out to the Sloop Providence Tall Ships Festival 2012 Tour Crew for all your amazing energy and support on our most recent journey - you all make the world a better place. And finally, special thanks as well to Captain Thorpe Leason and First Mate James Kiker for trusting me and going above and beyond. You gentlemen are inspiring and support the idea that anything is possible. Thank you for believing in me as I believe in you - our journey has just begun.
While the Providence has proved to make a come back from being abandoned by previous owners... we still have some work to do to make her even stronger. Keep your eyes open for a continued restoration fundraiser starting soon. Cheers and Much Love, Nichole
www.tallshipprovidence.com
Facebook - Tall Ship Providence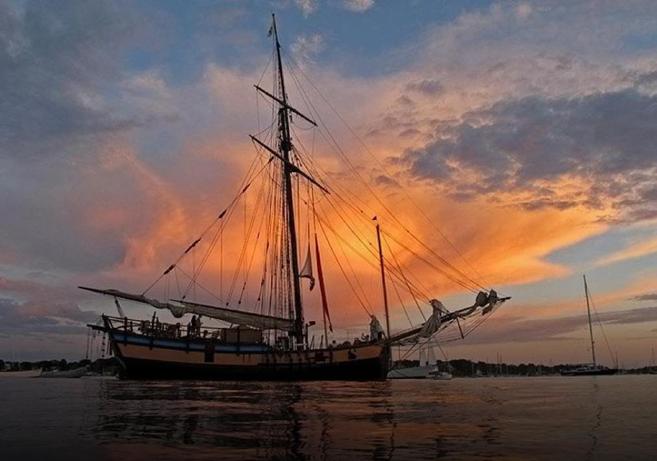 "Give me a fast ship, for I intend to go in harms way."
John Paul Jones

Wheeling Kansas City - In her own Center Ring! - April 2012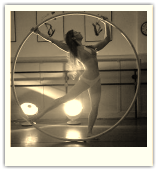 I have had the profound honor to begin learning wheel art, becoming the owner of my own wheel and performing all around Kansas City in a very short time. I have much to learn and grow though I am very blessed to be Kansas City's first Wheel Artist, bring a new art form to Kansas City on a regular basis. With much support and many thanks to Wolfgang Bientzle as well as thanks to Paul Perreault.
"Hello, My name is Paul Perreault. I'm a graduate student from The National Circus School in Montreal and I'm the head Cyr Wheel coach at the Chicago Big Wheel Weekend. During the workshop... I have had the opportunity to teach fundamental Cyr Wheel basics to Nichole Raab. She proved to be a quick learner by being able to apply corrections efficiently and with ease. Her experience in dance and her flexibility are two of her most valuable assets which have been allowing her to progress quickly... I have no doubt that she is dedicated towards becoming one of the great Cyr Wheel artists and she is showing a lot of initiative towards achieving her goal! ... Regards, Paul Perreault -
www.TheEngagementRingShow.com
-
info@TheEngagementRingShow.com
"
Defining - An acrobatic device popularized in the early 21st century. It consists of a single large, metal hoop,
[1]
and is used in a similar manner to a
German wheel
, with the acrobat rolling the wheel around the stage from the inside. Known as Cyr Wheel, Roue Cyr, Mono Wheel, Wheel, Ring or Simple Wheel.
"Make up your mind to be happy. Learn to find pleasure in simple things."
Robert Louis Stevenson
---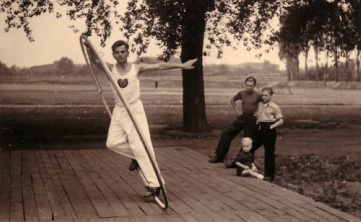 "Adalbert von Rekowski" dated around 1930


Aids Walk KC 2012 - April 2012
Aids Walk KC 2012 was a big success!
Team Hope Care Center had great support and exceeded their goal!
Entertainment put their whole heart into it!
Thanks to all for the hard work.

---
In The Press
Mt. Gay in My Coffee BlogSpot Post - "As The Anchor Drags"

Following Sloop Providence and Nichole -
Newport Harbor Corporation
Charm and Opportunity Define Newport Charter Yacht Show

June 27, 2012
http://www.newportharbor.com/News/press-releases-detail.php?pressreleaseID=398
...the Newport Charter Yacht Show's inclusion of YachtAid Global as a charitable partner drove home the message of changing lives, in this case using charter yachts to carry aid to third-world countries. The non-profit organization hosted a cocktail reception aboard the 110-foot Sloop Providence, complete with an aerialist (Nichole Raab), who used as her climbing prop a sky-blue scarf cascading from a yardarm in the tall ship's 98-foot high rig. The enchanting image she created seemed to say it all: the sky's the limit, for not only the Newport Charter Yacht Show, which promises an even bigger and better return in 2013, but also the movers and shakers who make the charter world thrive.

KCActive
Witness to an artistic community

by David Ollington - February 25, 2012
http://kcactive.com/aande/theatre/022412/index.htm
Stephen Plante and Nichole Rabb collaborated on their duet "Le Couer," possibly the most satiating visual feast of the evening. They hung from a large ring suspended from the fly gallery, sculpted the space with exquisite lines, took risky dives to the floor, and related with integrated investment. Behind them, colorful projections on the cyclorama seasoned their dancing without overwhelming. Part of the background visuals included video images of the dancers themselves, shot and projected simultaneously.
Fox 4 News Kansas City - Aerial Fitness - January 2012


University News
Dancing in the park: Event showcases UMKC talent

By Nicole English September 19th, 2011
http://unews.com/2011/09/19/dancing-in-the-park-event-showcases-umkc-talent/
"…0ne of the more novel numbers of the evening also included an alumna, Nichole Raab, in "Expansion, Tangle," performed by the aerial dance group Voler–Thieves of Flight. Using dramatic dance, acrobatics and aerial performance, the group presented an unusual solo and an intriguing duet where the dancers were tethered to each other by a long braid of hair. This presentation was one of the hits of the evening.
OffStage - KCStage
KC Fringe "Tordu Vol"

review by vanfanivan - July 2011
http://kcstage.blogspot.com/2011/07/kc-fringe-tordu-vol-review-by.html
WOW!
I wish I could have taken a picture of my face during the performance. It looked like this: mouth hanging open, breath held, and eyes as round as saucers...
...But hands down the most extraordinary piece was Le Coeur with Stephen Plante and Nichole Raab. This touched my soul. I will remember this for a long time. I could actually feel the emotions and they did difficult maneuvers that with one wrong move could have been fateful.
Kansas City Star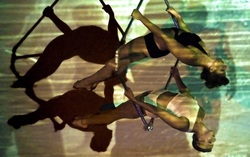 ---
KCStudio Magazine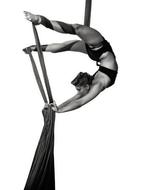 Voler – Thieves of Flight Soar at the Fringe Festival

Summer 2011
http://www.kcstudio.org/page.cfm/archives/voler-thieves-of-flight-soar-at-the-fringe-festival
Why did Daedalus and Icarus strap wings to themselves? Why did Leonardo Da Vinci sketch bat-like wings and fantastical flying machines? Why did the Wright brothers construct a plane? Why do many people like to fly in dreams?...
Nichole Raab teaches dance and has performed all over the metropolitan community. She studied dance at UMKC while receiving a B.S. in biology and a minor in chemistry. "I am happiest when I am dancing, whether on the ground or in the air. I try to keep moving. Being an aerialist is a different type of dance. It's another medium for my art."
---
The Local East Village -
In Collaboration with The New York Times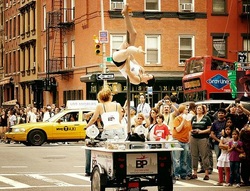 ---
Sierra Club Newsletter VOl. 23 No. 4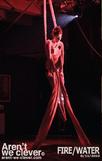 FIRE/WATER Benefit Proves Successful - August 2010

http://missouri.sierraclub.org/thb/newsletter/2010/11/201011-heartland.pdf
Taken as a muse, even an environmental disaster like the BP oil spill can yield beauty — say, in the form of an artist swinging and contorting on a giant silk swath, well above the heads of her audience, as she metaphorically embodies the element of fire.
---